Sign up for the Pittsburgh Soda CSA | Two Bottles Twice a Month | Registration ends on June 30th | Learn More >
May 2021 Workshop Series
Recordings Available until June 10th
Ferment the Scraps!
Low-Cost Ferments to Reduce Food Waste
Purchase recordings of each individual workshop below.
8 Creative Hands-On Instructors
8 Interactive Virtual Workshops
Payment Suggestions
$15 – $30 sliding scale / workshop
$120 – 240 sliding scale for the entire 8-part series
Please refer to our Practices, Policies & Pricing page to learn more.
50% of the total proceeds from this series will benefit the organizations selected by our instructors.
8-Part Fermentation Education Series
Schedule of Workshops
Using Shio Koji to Reduce Food Waste
with Marika
Turn your vegetables and fruits into magical koji seasonings! Enjoy the colourful lineup of your new Koji sauces from the simplest ingredients in your kitchen.
Marika has chosen to support Earth Caravan, a global interfaith pilgrimage dedicated to peace, healing and justice for the most traumatic places on our planet.
8 Bubbly Personalities
Meet the Instructors
Marika Groen
KOJIOLOGIST & TRAVELING BREWER
Malica Ferments
Marika is a kojiologist, travelling brewer, photographer, writer, and the head of Malica Ferments. She was born in Japan, and is now based in Europe, where she shares philosophical and mythological aspects of koji-making through three-day "Kojiology" classes. In between instructing koji, miso, shoyu, doburoku sake, natto and a broad range of fermentation classes, she organizes an annual fermentation tour with brewery visits, field work, and wild-crafting tours.
Tepache, Tibicos, and Simple Mead
with Soirée-Leone
Explore the tasty world of fermented beverages including tibicos, tepache, and a simple mead. Tibicios is a traditional Mexican beverage that is known by many names, including water kefir, and is fermented using a SCOBY (symbiotic community of bacteria and yeast) that forms into grains. It can be flavored in a zillion ways including using food scraps! Tepache is another traditional Mexican beverage made with corn and often these days is made with pineapple scraps. Mead can be a bit daunting so here we will start with a simple mead using just honey and water to get folks started on a mead making journey.
Soirée-Leone has chosen to support Middle TN Black & Indigenous Support Fund, a community fund for Black and Indigenous queer and trans folks living and participating in the gayborhood and queer community of rural Middle TN.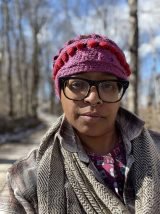 Soirée-Leone
FOOD PRESERVATION TEACHER & AUTHOR
Turning Leftover Vegetables Into Delicious Ferments
with Pao
Join Pao as she shows you how making Chinese pickles (pao cai) can be used to turn kitchen scraps into delicious ferments. She will also illustrate the simple process of dehydrating kimchi and krauts into flavorful salts.
Pao has chosen to support I Support Myanmar, featuring fundraisers verified by strong local networks in Myanmar.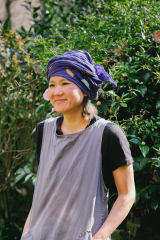 Pao
FERMENTER / EDUCATOR / OWNER
Pao Pop N Pickles
Pao is a UK-based Taiwanese fermenter, educator, and owner of Pao Pop N Pickles, a small-batch fermented products business. She is very active in the fermentation community and is part of a newly formed organisation, the Guild of Fine Fermenters, which aims to dedicate, promote and uphold the quality of fermented drinks and foods in the UK.
Fermented Condiments
with Cheryl Paswater
Learn to make your own fermented condiments — ketchup, mustard, pesto, salsa, corn relish, hot sauce, and more — with Contraband Ferments. Get the history and science behind fermentation, as well as the basic principles to make your own delicious, probiotic-rich condiments. If you're a condiment junky like we are, then this is the class for you.
Cheryl has chosen to support The Creative Center, a nonprofit organization dedicated to bringing the creative arts to people with cancer, chronic illnesses, and through all stages of life.
Cheryl Paswater
CHIEF FERMENTATIONIST & CEO
Contraband Ferments
Cheryl Paswater is the Chief Fermentationist and CEO of Contraband Ferments. She is a contributing writer for Edible Magazine, a contributor of the new book Miso, Tempeh, Natto, and is writing her first book on fermentation. She is an organizer of NYC Fermentation Festival and NYC Ferments Meetup, and has been a guest on the radio show "Fuhmentaboudit!" (on Heritage Food Radio Network). You can find her teaching workshops and presenting at festivals regionally and internationally. Cheryl lives in Brooklyn, NY with her partner, cat named Koji and all of her cultures as pets (aka: bacteria, yeast, and mold).
Food Waste Vinegars
with Sarah Arrazola
Learn the basics of making a raw fermented vinegar with food waste! While there are a multitude of ways to make your own vinegar, we'll focus on ways to use spent coffee grounds, as well as fruit and vegetable scraps.
Sarah has chosen to support Asian Americans Advancing Justice – Atlanta, the first and only nonprofit legal advocacy organization dedicated to protecting the civil rights of Asian Americans, Native Hawaiians, and Pacific Islanders (AANHPI) in Georgia and the Southeast.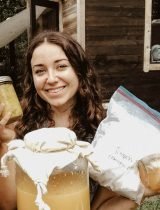 Sarah Arrazola
WILD FERMENTER & FOUNDER
St. Pete Ferments / Florida Ferment Fest
Sarah Arrazola, founder of St. Pete Ferments and co-founder of the annual Florida Ferment Fest, is a fermentation enthusiast and proud Floridian. She is inspired greatly by her Latin American heritage, southern roots and their cultural exchanges unique to the Sunshine State.
Amino Sauces
with Julia Skinner
Savory sauces are a simple way to add depth and complexity to meals through their use as marinades, condiments, or ingredients in dressings. We'll be making shio koji and hot sauce, two tasty sauces with a short fermentation time, as well as hot sauce yogurt and an easy vinaigrette.
Julia has chosen to support Umi Feeds, a food rescue non-profit organization dedicated to serving the hungry and homeless healthy and nutritious meals in metro Atlanta, Miami, New York, and Mississippi.
Julia Skinner
AVID FERMENTER / WRITER / FOUNDER
Root
Dr. Julia Skinner is the founder of Root, Atlanta's fermentation and food history organization, and an avid fermenter, writer, and artist. Her next book on the history of fermentation will be published by Storey Publishing in 2022.
Citrus Surplus Situation
with Jess Wang
** Due to technical difficulties, the official recording of the workshop was lost. However we are able to offer a shorter recording of Jess on the same subject from last year's Ferment for Food Justice event. The recording does not touch on the fermented citrus cleaner, but you will receive Jess' written instructions on how to make the product when purchasing this recording **
Learn how to make the most of your citrus through fermentation: preserve high acid citrus for adding depth to your cooking, and prep your own all purpose surface cleaner, using sweet citrus varieties. Jess looks forward to guiding you through these two processes!
Jess has chosen to support Asian Pacific Islander Forward Movement to help cultivate healthy, long-lasting, and vibrant Asian and Pacific Islander communities through grassroots organizing.
Jessica Wang
CHINESE AMERICAN FOOD ADVOCATE / MICRO-ENTREPRENEUR
Picklé / Pique-Nique L.A.
Jessica Wang is a Chinese American food advocate and micro-entrepreneur based in Los Angeles. She is the founder of seasonal bakery concept Pique-Nique L.A., and the educational pickling workshop project, Picklé. Her work is influenced by art, personal health encounters, and a diverse cultural upbringing – including her teen years spent in Chiang Mai, Thailand. With an academic background in fine art, art education experience, and a decade spent in professional kitchens combined with a passion for sharing the wonders of fermentation and mindful living, Ms. Wang has naturally grown into a host of creative educational pickling and cooking experiences.
Scrappy Sodas: Utilizing Your Wild & Local Resources
with Trevor Ring
Every season offers different resources that can be turned into delicious bubbly beverages; every kitchen offers food scraps that can create flavorful ferments. This workshop will focus on discovering the obvious (or hidden) low-cost foods and microbes that can result in simple, wild fermented sodas.
Trevor has chosen to support Asian Pacific American Labor Alliance (APALA) – Pittsburgh Chapter, the first and only national organization of Asian American and Pacific Islander (AAPI) workers, most of whom are union members and our allies, building power for AAPI workers and communities.
Trevor Ring
FERMENTATION EXPERIMENTALIST & EDUCATOR
Community Cultures
Trevor Ring is the founder of Community Cultures, a business that aims to bring people together and teach them the vital role that microbes play in our lives through affordable workshops. He has taught for over seven years, worked for numerous businesses, and runs various fermentation CSAs. He has also worked at South River Miso Company, where he learned about the traditional Japanese techniques of growing koji / making miso, and holds a M.A. in Food Studies and an M.B.A.